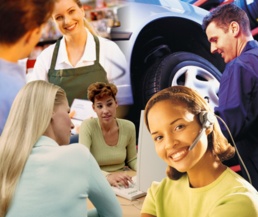 Spectrum Services launched its VIP Service Rewards program in May 2006 to increase customer dealer loyalty in the automotive, RV and motorcycle industries. The program was developed for two reasons. First, it is a compelling tool to help your sales team close the sale. Additionaly it gives the buyer an added incentive to visit the dealers' service department for discounts and credits for the purchase of another vehicle. The web-based program is available 24/7 providing an effective, efficient and economical marketing tool to attract and retain customers.
Developed with the understanding that while customers expect superior service, the VIP Service Rewards program exceeds expectations by creating value for the dealership's customers. In return, the dealership receives a return on their minimal investment through increased service and sales.
Spectrum Services designed the program to be flexible and easy to customize for the specific needs of each dealer. In addition, the program is simple to understand and effortless to administer.
Although Spectrum Services designed the VIP Rewards program to serve the automotive, RV and motorcycle industries, it can be modified to meet the needs of the retail or service industries.
Call 770-449-1776 and ask for Jeff Weekley to schedule an appointment to see how your dealership can build additional customer loyalty.