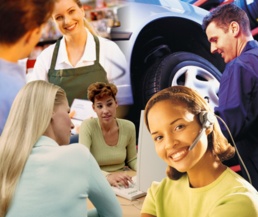 Spectrum Services measures and reports customer satisfaction, attitudes and opinions to increase customer loyalty using your customer database or random sampling via telephone and online surveys and direct mail. Our services produce results and increase profitability for our clients in the automotive, financial, medical, media, home services and political arena.
Progressive business leaders work diligently to maintain and expand existing relationships with their customers because they understand the marketing axiom that it is more cost-effective to keep an existing customer than to acquire a new one. This is why successful business owners and executives retain Spectrum Services to continually monitor and measure their companies' business relationships with their customers. We deliver valuable consumer marketing information that allows our customers to consider changing the way they manage their business and fine tune their relationships with their current and future customers.
From customer retention programs and in depth market studies using telephone and online surveys and direct mail, Spectrum Services prides itself on designing products and services to address the needs of our clients. Our Atlanta, Georgia market research department gathers, interprets, and reports data in a timely and cost efficient manner to take your business to the next level of performance.
Contact us today to discuss how Spectrum Services can help your company enhance its customer satisfaction and retention efforts and grow profits to the next level.